Character Name
Niobe Isa (Liara Rassody) by Moshi
Specializations
Peacekeeper, Shii-cho Knight
System
Force and Destiny
---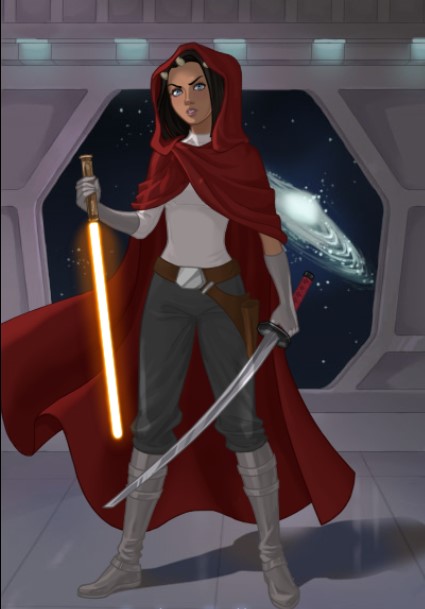 Characteristics
---
Skills
| Skill | Career? | Rank | Roll |
| --- | --- | --- | --- |
| Astrogation (Int) | | 0 | |
| Athletics (Br) | X | 0 | |
| Charm (Pr) | | 0 | |
| Coercion (Will) | | 0 | |
| Computers (Int) | | 0 | |
| Cool (Pr) | X | 1 | |
| Coordination (Ag) | X | 0 | |
| Deception (Cun) | | 0 | |
| Discipline (Will) | X | 1 | |
| Leadership (Pr) | X | 1 | |
| Mechanics (Int) | | 1 | |
| Medicine (Int) | | 0 | |
| Negotiation (Pr) | | 0 | |
| Perception (Cun) | X | 1 | |
| Piloting: Planetary (Ag) | X | 0 | |
| Piloting: Space (Ag) | | 0 | |
| Resilience (Br) | X | 1 | |
| Skulduggery (Cun) | | 0 | |
| Stealth (Ag) | | 0 | |
| Streetwise (Cun) | | 0 | |
| Survival (Cun) | | 1 | |
| Vigilance (Will) | X | 1 | |
| Brawl (Br) | X | 0 | |
| Gunnery (Ag) | | 0 | |
| Lightsaber (Br) | X | 1 | |
| Melee (Br) | X | 1 | |
| Ranged: Light (Ag) | | 0 | |
| Ranged: Heavy (Ag) | | 0 | |
| Knowledge: Core Worlds (Int) | | 0 | |
| Knowledge: Education (Int) | | 1 | |
| Knowledge: Lore (Int) | | 0 | |
| Knowledge: Outer Rim (Int) | | 0 | |
| Knowledge: Underworld (Int) | | 0 | |
| Knowledge: Xenology (Int) | | 0 | |
Attacks
Knife

Range

Engaged

Skill

Melee
Accurate 1

Damage

+1 (4)

Critical

3
---
Weapons & Armor
Knife

Concealing Robes {1 Soak and add a Setback die to checks to notice or recognize wearer}
Personal Gear
Assets & Resources
Critical Injuries & Conditions
Talents
| Name | Book & Page | Description |
| --- | --- | --- |
| Command | F&D 75 | Add Boost Die per ranks to Leadership checks. Affected targets add Boost Die to Discipline checks for 24 hours |
| Commanding Presence | F&D 75 | Remove setback die per rank from Leadership and Cool checks |
| Toughened - 3 | | Gain +6 wound threshold |
| Enhanced Leader | F&D 75 | Add Force Die no greater than Force Rating to check. Spend FP to add Success or Advantage |
| Steely Nerves | F&D 75 | Spend 1 Destiny Point to ignore Critical Wound effects on Willpower or Presence until end of ecnounter |
| Second Wind - 1 | | Once per encounter, may use the Second Wind incidental to recover strain equal to ranks in Second Wind |
| Dedication | | Gain +1 to a single characteristic. |
| Fearsome Countenance | Zabrak trait | Zabrak may add automatic advantage to any Coercion checks. |
| Force Rating - 1 rank | F&D 75 | Gain +1 Force Rating |
Force Powers
Power
Enhance
Description
When making an Athletics check, the user may roll an Enhance power check with it.

User may spend FP to add success or advantage to the check.
| Upgrade | Effect |
| --- | --- |
| Control | Enhance may be used with Coordination, Piloting (Planetary and Space), Resilience |
| Control | Ongoing Effect: Commit Force Die and increase Agility by 1 (to a maximum of six) |
Power
Sense
Description
May spend FP to sense all living things within short range (sentient and non-sentient)

The user may spend FP to sense the emotions of one living target with whom he is engaged with.
| Upgrade | Effect |
| --- | --- |
| Control | Ongoing Effect: Commit Force Die. Once per round, when an attack targets the character, upgrade the difficulty of the pool once. |
Background
Motivation
Help the Helpless - In slavery, Niobe wants to help those who cannot help themselves. She thinks about the moment and not the grand scheme of things.
Morality
Justice/Cruelty - 50
Description
Age: 25
Height: 5'6
Hair: Purple, usually looks black with purple highlights under most lighting
Eyes: Green
Skin: Pale orange-yellow tint

Niobe has a slender, athletic build. Her muscles are slightly defined due to physical training. In slavery, she wears a white t-shirt that clings to her body and black sweatpants.
Other Notes
- Knowledge (Education) and Mechanics ranks come from time in the Corellian school system
- Shii-cho Knight is the free specialization after time skip, which also lines up with learning from Master Griv's holocron.
- Enhance is the free power we got to choose way back at the start of the campaign.
- Sense is a bought power.