Species
Mandalorian Human
System
Age of Rebellion
---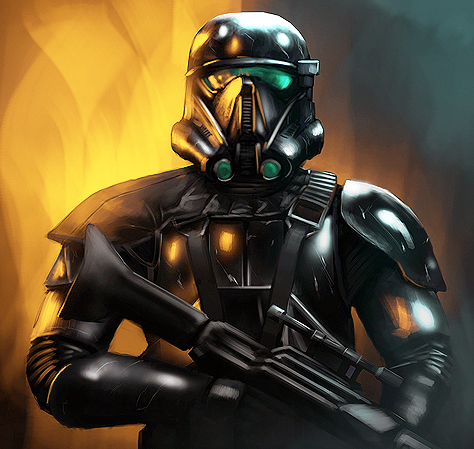 Characteristics
---
Skills
| Skill | Career? | Rank | Roll | Adj. |
| --- | --- | --- | --- | --- |
| Astrogation (Int) | | 0 | | |
| Athletics (Br) | X | 1 | | bbf |
| Charm (Pr) | | 0 | | |
| Coercion (Will) | | 0 | | |
| Computers (Int) | | 0 | | |
| Cool (Pr) | | 0 | | |
| Coordination (Ag) | | 0 | | f |
| Deception (Cun) | | 0 | | |
| Discipline (Will) | | 0 | | |
| Leadership (Pr) | | 0 | | |
| Mechanics (Int) | | 0 | | |
| Medicine (Int) | X | 0 | | |
| Negotiation (Pr) | | 0 | | |
| Perception (Cun) | | 0 | | b |
| Piloting: Planetary (Ag) | | 0 | | |
| Piloting: Space (Ag) | | 0 | | |
| Resilience (Br) | X | 1 | | bbf |
| Skulduggery (Cun) | | 0 | | |
| Stealth (Ag) | | 0 | | |
| Streetwise (Cun) | | 0 | | |
| Survival (Cun) | X | 0 | | |
| Vigilance (Will) | | 0 | | |
| Brawl (Br) | X | 2 | | f |
| Gunnery (Ag) | | 0 | | |
| Lightsaber (Br) | | 0 | | |
| Melee (Br) | X | 2 | | |
| Ranged: Light (Ag) | X | 0 | | |
| Ranged: Heavy (Ag) | X | 1 | | |
| Knowledge: Core Worlds (Int) | | 0 | | |
| Knowledge: Education (Int) | | 0 | | |
| Knowledge: Lore (Int) | | 0 | | |
| Knowledge: Outer Rim (Int) | | 0 | | |
| Knowledge: Underworld (Int) | | 0 | | |
| Knowledge: Warfare (Int) | X | 0 | | |
| Knowledge: Xenology (Int) | | 0 | | |
Attacks
E-11D Carbine

Range

Medium

Skill

Ranged: Heavy
Stun Setting

Damage

9

Critical

3
DLT-19D

Range

Long

Skill

Ranged: Heavy
Accurate 2, Auto Fire, Cumberson 3, Pierce 2

Damage

10

Critical

3
Vibro Knife

Range

Engaged

Skill

Melee
Pierce 2, Vicious 1

Damage

+1

Critical

2
---
Weapons & Armor
Personal Gear
Assets & Resources
Critical Injuries & Conditions
Talents
| Name | Rank | Book & Page | Description |
| --- | --- | --- | --- |
| Physical Training | 2 | | add one boost per rank to Resilience and Athletics |
| Toughened | 3 | | +2 Wound threshold per rank |
| Point Blank | 1 | | Add 1 damage per rank to successful Ranged light/Heavy attacks at short/engaged range |
| Durable | 1 | | Reduce Critical injury by 10 per rank |
| Armor Master | 1 | | Increase total soak by 1 |
| Feral Strength | 1 | | +1 damage to melee and brawl per rank |
| Uncanny Senses | 1 | | add one boost die per rank to all perception checks |
Force Powers
Power
Enhance
Description
When making an Athletics check, the Force user may roll an Enhance power check as part of the pool.
The user may spend light/dark to gain success or advantage (user's choice) on the check.
| Upgrade | Effect |
| --- | --- |
| Control: Brawl | Enhance can be used with the Brawl Skill |
| Control: Coordination | Enhance can be used with the Coordination skill |
| Control: Resilence | Enhance can be used with the Resilience skill |
| Control: Brawn | Ongoing Effect: Commit (1) Force, the user increases the Brawn characteristic by 1 (to maximum of 6). |
Background
DT-777 was born a Mandalorian during the early days of the clone wars and witnessed first hand two civil wars. With the coming of the empire, he was drafted from the Imperial Academy on Mandalore and placed into the Death Trooper Program, one of the first of his kind. With his solid Mandalorian upbringing and enhanced Death Trooper training.

The Empire noticed a knack in him. Hightened agility, reactions, awarness.... Something more to him than your typical Mandalorian. Something they needed to keep a close eye on. So they turned him into a Death Trooper and assigned him to Jackal Squad, a squad in the service of the Inquisition.
Motivation
Growth -
He seeks Power, and will stop at nothing until his might grows ever onward.
Duties
Duty - 10 Combat Victory

A Mandalorian is a Conqueror. DT-777 is the Emperor's blade. Through force of skill and might he will crush any who stand against the empire.
Description